We spend more time than ever before on home interiors. Carefully designing our living space, to introduce the latest trends to our kitchens and bathrooms. It is therefore no surprise that we now want to apply that same principle to sauna.Gone are the days of the boring wooden pine box. The modern-day sauna is not only a place of relaxation but also a design feature to be proud of.
Glass, stone and unconventional materials, like slate, are becoming popular - challenging tradition and give a feeling of luxury.
Hanna-Louise Widberg, Brand & Marketing Manager at TylöHelo guides us through the latest trends: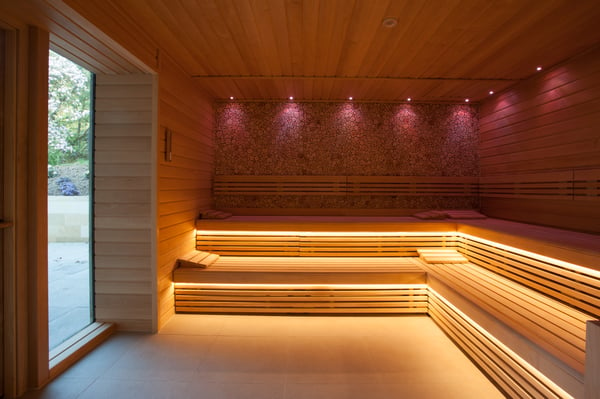 https://www.tylohelo.com/en-uk/portfolio/rudding-park-hotel
Glass
Glass creates the feeling of space and light. A bathroom sauna need not be enclosed but can become part of the overall bathing space with the use of a full glass fascia.
Glass can also be used to open up a sauna to the outside. What better way to relax in the sauna than by looking out on a beautiful view or garden setting?
Stone
A wall of stone adds depth to a sauna. Behind the heater, stone can act as an imposing design feature. Dark materials like slate and brick add a more urban and contemporary feel to sauna interiors.
Forms
Experiment with different materials, benches and panel sizes to perfect your design. Contrast square edges with rounded ones or combine unusual woods. Mixing dark wood walls with light aspen benches can create a stunning focal point.
Lighting
Well placed lighting really completes a sauna and adds to the overall experience. Create a soothing, calming space with soft under-bench lighting and a starry sky of fibre optic lighting or go for bold spotlights and color changing wall wash systems. The possibilities are endless.
Accessories
Details matter. A sleek, premium bucket and ladle with matching hygrometer, thermometer and towelling hooks really finishes off the look.
Forget the plain and boring saunas of the past. Today's sauna is for all the senses!